---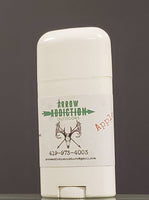 All natural Apple Flavored Scent Stick.
Good to use when hunting deer, bear, and other wild game! 
Great when used on your boots walking in or marking some trees close to your stand or blind location. This apple stick can be smelled by the human nose 80 to 100 yards away. Imagine what a deers nose is going through at a few hundred yards. These sticks are made from natural food grade products and are safe for human and animal consumption.